November 15th, 2018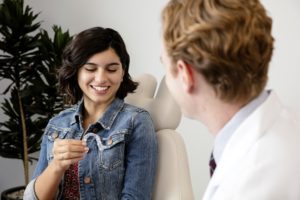 A video speaks a thousand words, so if you do not have time to read this whole blog post, click on the link to check out this video from an orthodontist who saw a patient who tried to treat himself first:  https://www.facebook.com/fitsmilesorthodontics/videos/330477387718566/
As humans, we are all different and have different biological limitations when it comes to moving our teeth. Just like someone might have a different pant size, we all have different size jaw bones, teeth and sometimes even number of teeth!  These DIY or Direct-To-Consumer companies prescribe generic treatment that is not custom to your mouth.
An orthodontist will take an x-ray of your teeth as part of their orthodontic records.  This x-ray allows us to look at the jaw bones and parts of the teeth that you cannot see just by looking in your mouth.  These DIY companies are not requiring an x-ray for treatment and thus can miss issues in your mouth that should be addressed before or during treatment.
It is important to make sure your teeth are healthy before you try to straighten them.  Moving unhealthy teeth through unhealthy bone can make any problems present (cavities, bone loss, gum disease, etc.) become worse and can cause even more expensive issues in your mouth!
As orthodontists, we look at your whole mouth instead of just the front teeth.  We make sure you have a proper bite in the back so you do not wear away your teeth incorrectly or leave your teeth in a position that is difficult to clean and prone to decay.
Hopefully we have given you a sense of how important it is to see a trained orthodontist when you want to straighten your teeth.  Remember, a clear aligner is just a tool to move teeth –who is using the tool matters.  Is there another medical procedure you would consider bypassing your doctor for?  When you consider the potential to lose teeth and add more expensive treatment costs, we certainly think seeing a trained orthodontist is worth the investment!
If you would like to read what the American Association of Orthodontics has to say about this issue, you can read it here:  https://www.aaoinfo.org/_/online-orthodontic-companies/