October 1st, 2018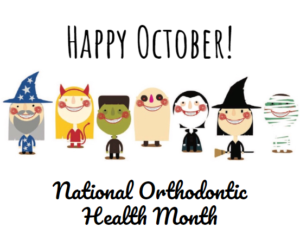 Each October, thousands of kids have one thing on their mind: Halloween candy!  For orthodontists, the Halloween season is all about helping patients avoid potentially sticky situations.  Drs. Bendick and L
andin 
offer these five timely tips to help protect braces, aligners and other orthodontic "appliances" while protecting teeth from decay.
Say "BOO" to hard and sticky foods.  Avoid caramel, gummies, licorice, taffy, bubble gum and nut-filled candies.
Choose "spooktacularly" soft candies.  Chocolate, peanut butter cups and other melt-in-your-mouth candies are the best choices for braces and aligners.
Dare to take extra care.  Brushing and flossing are even more important than ever during the Halloween season. Orthodontic patients should be especially vigilant about brushing and flossing immediately after eating sugary or starchy foods.
Set yourself up for success.  Trade candies with your friends for the ones you know you can eat safely!  Parents can also find free, Halloween-themed recipes such as Quirky Quesadillas for Halloween, Delightfully Devilish Deviled Eggs, Mummy Pizza Biscuits, Spooky Spider Web Bean dip and others, on the American Association of Orthodontists' website at https://www.mylifemysmile.org/recipes.
Commit to oral health. Commit to keeping your braces and aligner attachments in good shape.  Deciding to avoid hard and sticky sweets before the Halloween season begins will make you successful!
"Coastal Fairfield is one of the best places for trick or treating in America!' says Dr. Bendick.   "Dr. Landin and I wish everyone here a Happy Halloween!  We know when patients get to the end of their orthodontic treatment and see their bright, beautiful smiles, they'll know the extra effort was worth it!."