As summer begins to come to an end, Dr. Bendick and Dr. Landin from Fairfield Orthodontic Associates wanted to offer up some nutritious and delicious dishes to make you smile!
One of the most common questions adult patients ask their orthodontist is, "What can I eat?" The American Association of Orthodontists (AAO) found some answers.  The AAO asked a personal chef to cook up a few ideas that patients could bite into without harming their braces, aligners and retainers.
Taking advantage of the freshness of the season, these three delicious farm-to-table recipes are easy on orthodontic patients, loaded with nutrients and simple to prepare.
"Soft, tender foods like those in these recipes are ideal for orthodontic patients because they don't risk breaking brackets, wires or other elements, which could prolong treatment," according to Morris N. Poole, DDS and president of the AAO. "It's a wonderful thing when the foods that are good for your health happen to be great for your orthodontic treatment, too."
These recipes feature fresh, quality ingredients that can be grown at home or obtained at local farmers' markets, such as oregano, basil and spinach, and require no more than thirty minutes to prepare.
Ready to get cooking?
Summer Corn-Tomato-Basil Orzo Salad with Shrimp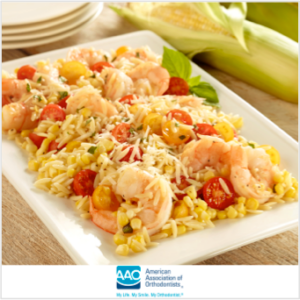 1 pound of orzo, cooked according to package directions
2 to 3 ears of fresh corn, husks and silk removed, kernels cut off of cob
2 tablespoons butter
½ teaspoon kosher salt, or to taste
Freshly ground black pepper, to taste
1 pound of medium shrimp, peeled and deveined
¼ cup fresh basil, chopped
1 pint of cherry tomatoes, halved
Parmesan cheese, for serving
Melt the butter over medium heat in a sauté pan and cook the corn, salt, and pepper for 7 minutes.
Add the shrimp and cook, stirring until pink.
Toss the orzo, corn and shrimp, tomatoes, and fresh basil together. Taste for salt and pepper and serve with grated Parmesan cheese, hot, cold, or at room temperature.
Farm Stand Frittata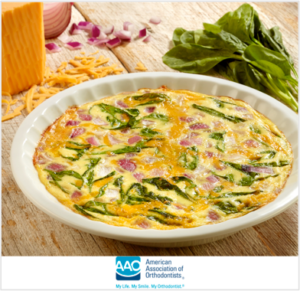 2 tablespoons butter
1 medium onion, diced
10 ounces fresh spinach or broccoli
1 cup shredded sharp cheddar cheese
2 large fresh eggs
½ cup low fat milk
½ teaspoon kosher salt
Fresh black pepper, to taste
Preheat oven to 350o and spray pie dish with cooking spray.
Melt the butter on the stovetop in a pan and sauté the onion over medium heat until tender.
Mix all ingredients together and pour into pie dish.
Bake 30 minutes or until frittata is set.
Farm Stand Zucchini-Garlic Fusilli with Feta (not pictured)
1-pound fusilli, cooked according to package directions
2 tablespoons extra-virgin olive oil
2 garlic cloves, thinly sliced
2 medium zucchini, sliced into half moons
2 sprigs fresh oregano
¾-1 teaspoon kosher salt, to taste
Fresh black pepper, to taste
½ cup Feta cheese, crumbled
Heat the olive oil over medium heat in a sauté pan. When the oil is warm but not hot, add the sliced garlic and stir for two minutes.
Add the sliced zucchini, kosher salt, a few grinds of fresh black pepper, and sauté until tender.
Add the fresh oregano and cook one minute.
Toss zucchini and garlic with the pasta and top each serving with the crumbled Feta cheese.
We wish you a happy and healthy end of summer!