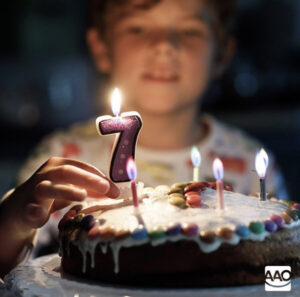 Although many people associate orthodontic treatment with adolescence, orthodontists can spot subtle problems with jaw growth or with the teeth much earlier, while the primary or "baby" teeth are present.
Parents may incorrectly think they must wait until a child has all of his or her permanent teeth. However, Dr. Bendick, Dr. Landin and the American Association of Orthodontists (AAO) recommend that every child get a check-up with an orthodontist no later than age 7.
"I can't emphasize enough how important it is that parents understand the value of an orthodontic check- up," says Dr. Bendick. "By age 7, enough permanent teeth have arrived for an orthodontist to evaluate the 'bite' – the manner in which top and bottom teeth and jaws meet and work, and how that relationship affects a child's ability to bite, chew and speak effectively.  Orthodontists can determine if your child will benefit from treatment."
"A visit to the orthodontist can ease a parent's mind, too," notes Dr. Landin. "Our recommendation may simply be 'let's wait and see' while the face, jaws and teeth continue to grow."
Some of the more readily apparent conditions that indicate the need for an examination include:
early or late loss of baby teeth
difficulty in chewing or biting
mouth breathing
thumb sucking
crowding, misplaced or blocked-out teeth
jaws that shift or make sounds
speech difficulties
biting the cheek or the roof of the mouth
teeth that meet abnormally, or do not meet at all
facial imbalance
jaws that are too far forward or back
grinding or clenching of the teeth
"Most importantly, if you as a parent notice anything that concerns you about your child's teeth – even prior to age 7 – please make an appointment so we can see if it is something that needs to be addressed," says Dr. Bendick.  "It is always best to be checked!"
"The summer is the perfect time to come into our office for a complimentary examination," says Dr. Landin.  "If your child is ready to start orthodontic treatment, there is no need for your child to be taken out of school to accommodate the longer appointment that may be necessary to place the appliance."  In addition, the summer is an optimal time for your child to adjust to having the orthodontic appliances in his or her mouth without taking away focus from school.
With today's technology, you and your child will have the option to select from the visible, traditional metal braces or the barely visible, clear aligners such as Invisalign Teen.  Dr. Bendick states, "With teens, we always talk with parents to learn if their child is ready to handle the responsibility that comes with Invisalign and the need to remove and re-insert the trays on their own each day.  It is okay to choose traditional braces!"  Many patients love the color options that come with the elastic ties necessary to hold the wire in place with traditional braces.  There are a wide variety of colors to choose from and colors can be changed at every visit.
For more information, visit Fairfield Orthodontic Associates' website, www.fairfieldorthodonticassociates.com. You can call 203-256-9500 or email ffldortho@gmail.com to schedule a complimentary consultation.  Find Fairfield Orthodontic Associates on Facebook and/or Instagram at @fairfieldorthodonticassociates.
When you visit our practice you will see why we love what we do.  We strive to give you an experience and a result that you will want to share with your friends. Call or email us today for an appointment that will start you on your way to your very best smile!